The Guide > Clothing > Footwear > Thongs/Sandals
Features: B Corporation, recycled materials
Footwear company based in California, with manufacturing in Bali by skilled artisans. Footwear primarily made from recycled tires, with over 100,000 tyres saved from landfills.
Features: Social enterprise, one for one
For every pair of Moeloco thongs sold, they donate one pair of school shoes to a child in need. Their rubber thongs leaves positive messages in the sand. Made in China.
Find farmers' markets, food coops, farm gate products at
Local Harvest
Company Ratings
| | |
| --- | --- |
| | Praises, no criticism |
| | Some praise, no criticism |
| | No rating |
| | Praises, some criticism |
| | Criticism, some praise |
| | Criticisms |
Note: Ratings are based on company record, including parent companies. They are not a comment on the product itself.
> More about ratings
OTHER ICONS
| | |
| --- | --- |
| | Australian Owned |
| ★ | Outstanding product feature |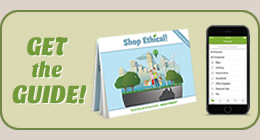 Latest Tweets
Latest tweets